Sakura, the emblematic cherry blossom is synonymous with iconic art and literature in Japan. Ask anyone when to visit Japan and the unanimous advice will be to go in spring, during cherry blossom season. It is after all, the most symbolic of flowers captured in haiku and the brush strokes of painters like Katsushika Hokusai. Now within Jo Malone London's olfactory line up, Sakura Cherry Blossom is a scent celebrating a new beginning.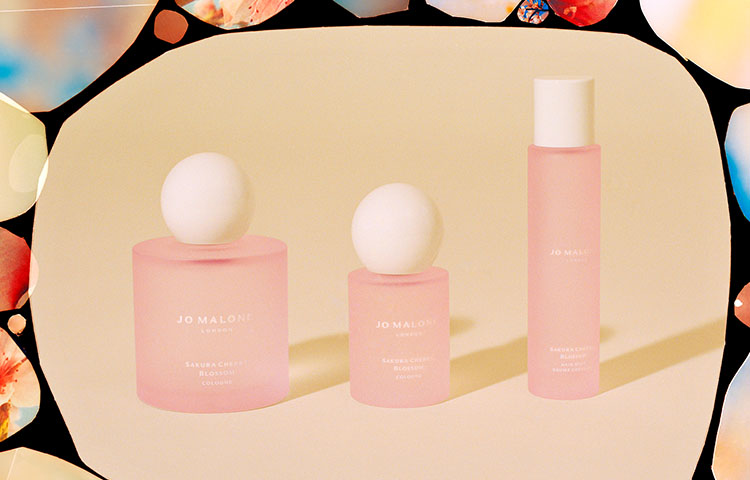 '…and so the spring buds burst, …and so I gaze, …and so the blossoms fall, …and so my days…'
Uejima Enitsura, haiku poet 
Over centuries, the cherry blossom has held symbolic significance. Historically the arrival of white and pink petals that fill the fine branches announced the rice planting season, giving divination to the year's harvest: a good omen. Today sakura is said to symbolise renewal and the optimism that comes with a new beginning. The tradition of hanami (gathering beneath the blossom to drink and eat together at the arrival of spring), is actually a celebration that wrings the beauty from life, commemorates the memory of lost ones and reflects on the precious lives we live with a sense of wonder; shedding the past to look ahead.

Nobel Literature Prize winning author Jun'ichirō  Tanizaki wrote in his celebrated novel The Makioka Sisters of his heroine Sachiko, 'The ancients waited for cherry blossoms, grieved when they were gone, and lamented their passing in countless poems. How very ordinary the poems had seemed to Sachiko, when she read them as a girl, but now she knew, as well as one could know, that grieving over fallen cherry blossoms was more than a fad or convention.' The juxtaposition of bittersweet optimism, happy memories tinged with melancholy, sweet heady florals
edged with sour fruit. It is always this perfect balance of imperfection that is so deeply ingrained in Japanese philosophy.

Jo Malone London's Sakura Cherry Blossom Cologne encapsulates the olfactory version of spring air: purity,warmth and hope.The subtle heart notes of cherry blossom, rose and violet are lifted further with citrus notes of bergamot and mandarin and warmth from cardamom.

The newest addition is the Sakura Cherry Blossom Hair Mist, a lightweight scented mist that adds shine without weighing hair down. The formula uses argan oil and pro vitamin B5 and is enriched with nourishing and softening ingredients to help give hair a healthy shine. Hold the mist at an arm's length from the hair, and spritz over the lengths for a soft silky finish. The lighter formula complements the fragrance and lifts the floral notes to the main attraction. For an alternative way to wear the cologne, spray into the air and walk through the mist of scent.