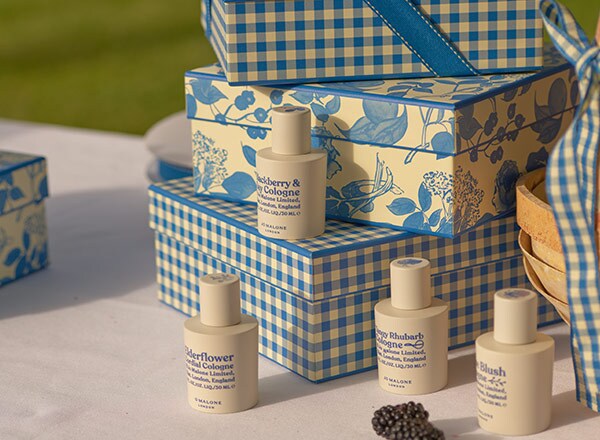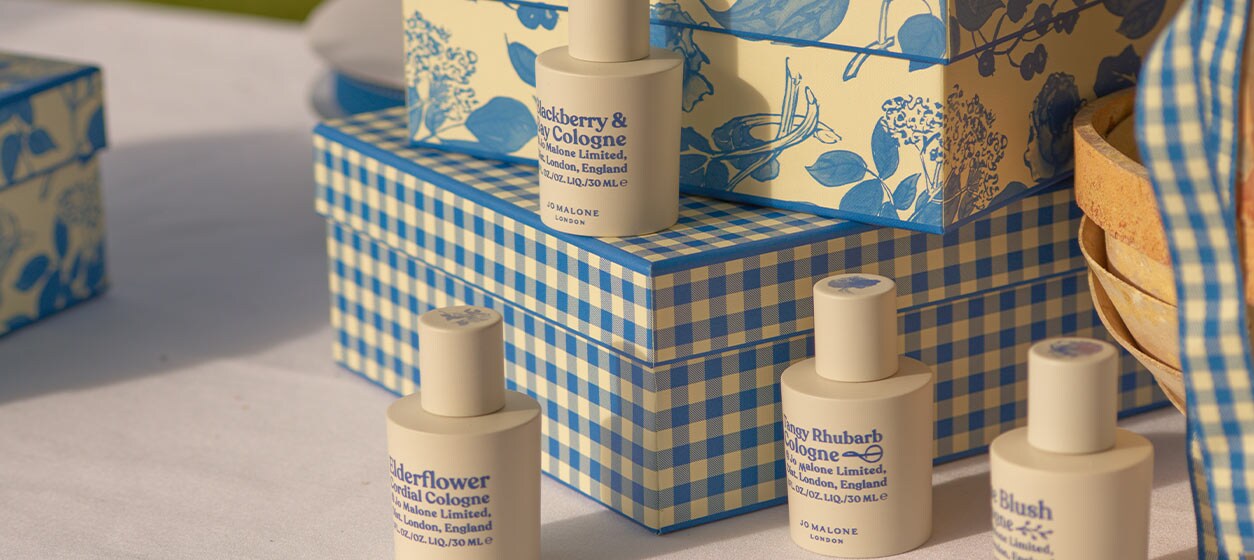 Imagine the scene where the sun shines on the local British village fete. Families gather, brightly coloured bunting flutters gently in the breeze and jars of homemade jams and marmalades sit proudly atop gingham tabletops. It's this idyllic setting and all the fun of the fair that has inspired our latest collection: Five delectable scents inspired by nostalgic scenes and marmalade dreams. A summer dream bottled, with a dash of science and expert fragrance development included, making our Brit collection truly special and unexpected.
"Using seasonal fruits to create homemade preserves feels like such a quintessentially British pastime, conjuring up images of English breakfasts, high teas and village fêtes. The British love of marmalade has always intrigued me and became our starting point for this collection." Explains Jo Malone London Head of Fragrance Development, Celine Roux.

Working with two perfumers Nicolas Bonneville and Marie Salamagne to bring different aspects to the collection. "We started with a tasting session. Thinking about different flavours and how to bring an elegance to fruit-based ingredients. Marie told me about a supplier in Scotland that made natural fruit flavourings for the food industry, using a process that could be potentially adapted for fragrance." The result the development of 'fruit-extracts' a bespoke process that supports local sourcing and cultivation in the UK. Using the fruit grown locally in the Highlands- strawberries, blackberries and blackcurrants (which sometimes grow just metres from their site) are harvested and slowly heated to release natural extracts, which are then recovered in a condenser. These extracts are typically supplied to the food industry, but true to our love for the unexpected, we found a way of using them in our fragrances.
"Fruit extracts are very volatile ingredients that can't be added directly to fragrance oil. But in every fragrance, there's a small part of water. By switching out the water for a fruit extract, we were able to introduce fruity notes that were fresh, vibrant and completely natural." Explains Marie Salamagne, with the process used for both our Blackberry & Bay fragrance and a rhubarb fruit extract included our Tangy Rhubarb Cologne. "A wonderfully British ingredient- tart and little bit unexpected."

The scents themselves pay homage to the single ingredient jams, encouraging you to use each fragrance in combination with another and experience all the fun of the fair. Take it from perfumers, the noses behind our latest collection, as they explain why each of its five fragrances is so special.

Blackberry & Bay: A long-standing favourite, this cologne was set to be at the core of the collection. A scent that was always been about jam-making and born from childhood memories, it pairs with all the fragrances beautifully.
Orange Peel: "Orange Peel took a long time to perfect as it required striking just the right balance between the juiciness of the fruit and the bitterness of the rind. We used natural orange together with the orange molecule Sinensal, which acts like a booster for orange to last longer, preserving a lovely zesty note all the way to the bottom of the fragrance." Explains Marie.

Rose Blush: "We did a lot of work on the texture of Rose Blush, really trying to tease out that transparent jelly effect. This was quite challenging, because with most extracts of rose you get something a bit honeyed and even a bit spicy, which can translate as quite old-fashioned. We worked hard to make our rose petal-fresh and added a hint of basil leaf in the top notes for a green, herbaceous twist." Nicolas states proudly.
Tangy Rhubarb: "We also worked with warm woods and clary sage to add elegance and refinement to this cologne. Our wonderful rhubarb fruit extract gives things a unisex quality and adds a hint of bitterness that works so well." Nicolas says.

Elderflower Cordial: "Elderflower Cordial is a beloved fragrance that has been brought back from our Sugar & Spice collection several years ago. It offers a wonderful contrast between powdery elderflower and tart gooseberry; it's delicate, fruity and so very English." Explains Celine.